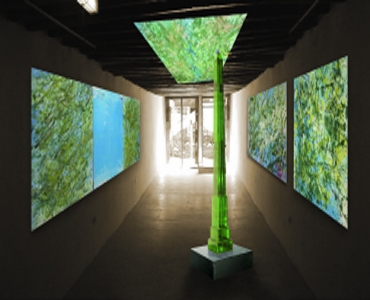 For more information please click on the pictures
" Chlorophyll " - Biennale Venezia 2007
Exhibition of selected works of Hella De Santarossa

05. Juni/june/ giugno - 07. Juli/july/ luglio 2007

The exhibition tells of that fantastic beginning summer in the spring of 2007 in Berlin. It is those first moments when the fresh green shoots tentatively emerge from the ancient trees and then their hourly and daily transformation into a flourishing of green leaves which inspired Hella De Santarossa in these works. When looking at these paintings you have the feeling of lying under the tree yourself as your soul swings through the chlorophyll to the skies. As in most works by Hella De Santarossa, light plays a key role in the series "Spring Pictures ". Light is life arrayed by me for the beholder in its many facets...